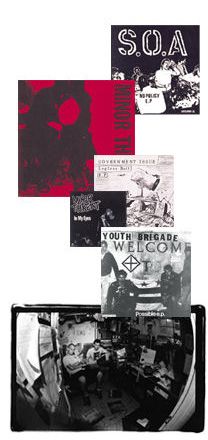 After nearly a year of playing together, the Teen Idles decided to break up. It was late summer 1980 and the only thing left to sort out was what to do with the money in the band fund. All of the money we had earned from our 35 concerts went into a cigar box in my room, and we had managed to save over $600. Instead of splitting it up, the band decided to release a record.
It was clear from the beginning that no label would be interested in putting out a Teen Idles record, particularly since we were no longer a band, so we decided to do it ourselves. We turned to our friend Skip Groff, who ran a record shop called Yesterday and Today. He had put out a number of small releases on his own label, Limp Records, and was able to explain the basic mechanics of putting out a record. We came up with a name for our label, started designing the cover, and sent off the tapes to a pressing plant. Finally, in December 1980, the Teen Idles' "Minor Disturbance" E.P. (an eight-song 7") was released. This was Dischord Records #1.
In the time it took to put the record together there had been a lot of activity in the young D.C. punk scene. Jeff and I started a new band, Minor Threat, and I moved from playing bass to singing. Henry, the Teen Idles' roadie, started S.O.A. John Stabb had appeared on the scene and was playing with a band that would become Government Issue. Nathan, the Teen Idles' singer, was working on a new band that would become Youth Brigade. The Untouchables, my brother's band, were still playing, and there were reports of other pockets of young punk rockers forming their own bands. It was decided that if we managed to sell enough of the Teen Idles records to make any of the money back, we would use the cash to put out records by these other bands. I was really inspired by the Dangerhouse Records label, which had released a series of singles by L.A. punk bands, and wanted to try to do something similar with Dischord.
Henry was very eager to do a S.O.A. record and ended up paying for the recording and manufacturing of Dischord #2, the "No Policy" E.P. (ten-song 7") which was released in early 1981. With money from both records coming back, we were able to release singles from Minor Threat, Government Issue, and Youth Brigade by the end of the year.
In October 1981 we moved into a bungalow-style house in Arlington, Virginia (just across the Potomac River from Washington). We dubbed it Dischord House and moved the label's operations from our bedrooms into a small room off of the kitchen. We didn't really have any idea how long we would last in this location, so we kept the Beecher Street mailing address. We figured that it would stay around for a while. After all it was--and still is--my parents' house. Nathan, who had been working on the label with us, didn't move in, and subsequently became less and less a part of the label. Those of us who lived in Dischord House were all involved with bands. Our basement became a non-stop practice room, and since it was one of the first group houses in our punk clique, it became a major hangout. People were around day and night, and quite often found themselves putting together record sleeves and folding lyric sheets.