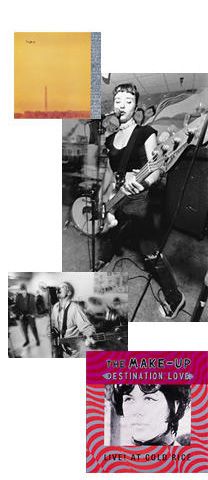 In the early '90s there was a sudden and intense interest in underground and independent music. This was largely due to the phenomenal success of the Nirvana "Nevermind" album, released in fall 1991. Fugazi, the band that I started with Brendan and Guy (from Rites of Spring) and Joe Lally in 1988 was one of the largest in the underground, and soon attracted the interests of many major labels. The band's decision to remain on Dischord led to offers from the majors to buy the entire label, but selling it was never even a consideration. We understood the value of self-determination, and because the label was so well established we weren't faced with the same circumstances as many other bands and labels at that time.
The dialogue in much of the underground shifted from music and ideas to business and money, and many of the more well-known bands were offered deals by the majors. Within the ranks of Dischord, two bands, Jawbox and Shudder to Think, decided that signing with a major label was the best way for them to continue moving forward. These were our friends and because we recognized that the bands came before the label (as there would be no label if there were no bands), we respected their decisions. The visitation of mainstream culture into what was once considered the underground had a profound effect on us. We were suddenly selling more records (a by-product of increased interest in "punk" music) and then selling less as the industry and the attention moved on to the next genre. We tried to ignore most of the hoopla and remain focused on the bands and our work. We released records by Slant 6, Hoover, Circus Lupus, Trusty, Bluetip, Branch Manager, The Crownhate Ruin, Smart Went Crazy and Make-Up.
The late '90s found Dischord slowing down its schedule of releases. Only three bands were "signed" (quotation marks because we have never actually used any contracts) to the label: Fugazi, Lungfish and BlueTip. Because the label is so tied to the output of one particular community, it stands to reason that there will be times when there is less to release. In the meantime, Dischord has become much more active in the distribution of other D.C. area labels, beginning with Slowdime, DeSoto, Simple Machines, Teenbeat, Superbad, Resin and continuing with Lovitt, Ruffian, Exotic Fever and more. These labels have been documenting and creating their own communities, and we feel connected to them.
Over the years a number of people have worked for Dischord, but it has never been more than five or six at any one time. Many of them are in bands or have their own labels themselves. While Jeff and I still work on the label, it is these people who really keep things running day to day. In the beginning it was basically a volunteer arrangement as there was no money to pay anyone, but by the early '90s we were not only able to pay everyone, but also able to provide them with health insurance and other benefits. I've always considered this one of our most important achievements. Most businesses, including record labels, have used profits (or at least the fear of losing profits) as their guideline for operations. Because we have tried to approach the label as a mission of documentation as well as a community-based entity, we have managed to avoid many of the industry-standard practices. The fact that we are able to help support the people who work for us as well as pay royalties to the bands seems to be proof that such an approach is possible.
As we near the 20th anniversary of the release of Dischord #1, I realize that many people may think of this label in historical terms, but I think it's important to recognize that we still consider our work as current. We still feel connected to the subculture that has made our existence possible, and plan to continue with the documentation that has brought us here.
-Ian, November 1999
Continue to the next page for Ian's Postscript 2000-present.